4 Simple SEO Tips for Local Flooring Retailers
We explain how SEO (Search Engine Optimization) can help flooring retailers improve their online presence and the 4 easy steps you can take to drive more traffic to your website.
By Dan Pratt
Feb 22, 2023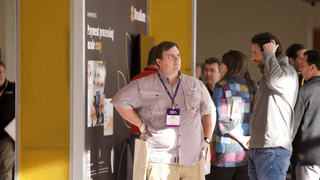 Last week we talked about how optimizing your local directory listings will improve your ranking on search engines like Google.
We had a few retailers reach out and ask what else they should be doing to improve their search engine rankings, and it's a great question!
As a local flooring retailer, having a strong online presence is essential to attract new customers and grow your business. And one of the most effective ways to improve your online visibility is through search engine optimization (SEO).
By implementing a few simple SEO strategies, you can increase your website's visibility on search engines and attract more potential customers to your business.
So let's dive into our 5 simple SEO tips for flooring retailers.
What Is Search Engine Optimization?
Before we dive into our tips, let's lay some groundwork.
Search engine optimization is the process of optimizing a website to improve its visibility in search engine results pages like Google for relevant search queries.
In simpler terms, it's a set of tactics used to make your website appear as high as possible in search engine results, with the aim of generating more traffic to your site.
For example, if I'm a potential flooring customer in your area and I do a Google search for "flooring store near me" or "hardwood flooring near me", you would want Google to rank your website high on the page to capture my interest.
How you get Google to do that is through search engine optimization, more commonly known as SEO.
SEO involves a variety of on-page and off-page optimization techniques, such as creating high-quality content, optimizing meta tags and headers, building high-quality backlinks, and optimizing site speed and user experience.
Why Is Search Engine Optimization Important?
The importance of SEO for local flooring retailers can't be overstated.
Simply put, the higher your website ranks in Google's search results, the more likely people are to click through to it. This means that by investing in SEO, flooring retailers can ensure that their website is the first thing people see when they search for flooring options in their area.
Think about the last time you've searched for something on Google and clicked on the 7th, 8th, or 9th search result Google presented to you.
Or worse, think about the last time you've clicked on the second page of search results Google presented you.
It's probably never happened.
And the data supports that! Less than 1% of all search traffic will make it to Google's second page of search results.
So it's crucial that your website rank as high as possible. An expertly crafted SEO strategy will help you do that.
Here are five simple SEO tips for local flooring retailers to get started:
Tip #1 - Optimize Your Website for Local Search
This one should be a no-brainer, but we're often shocked by how many retailers miss this simple step.
Including your business's name, address, and phone number on your website's homepage and contact pages will have a drastic impact on your SEO.
Adding this information to your website will help search engines like Google associate your business with a specific geographic location and can help improve your local search ranking. It's what will cause you to show up when a potential customer in your area searches "flooring store near me" in Google.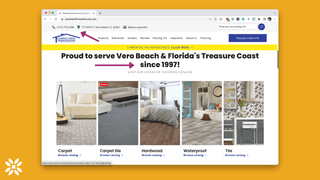 This is one of the first things we do when building Broadlume websites for our flooring retailer customers.
Tip #2 - Leverage Online Reviews
Encourage your customers to leave reviews on platforms like Google My Business, Facebook, Yelp, and Angi (formerly Angie's List).
Online reviews not only help build trust with potential customers, but they also have a positive impact on your website's SEO.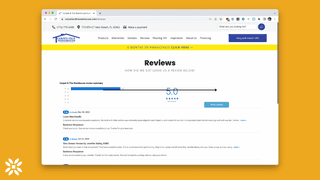 This is why every Broadlume website we build for flooring retailers includes a "Reviews" page that automatically updates when a customer leaves a review on Google, Facebook, or any other platform.
Tip #3 - Create a Product Catalog
Ok, this tip may be the most challenging tip on our list. But we promise that nothing will improve your SEO more, so please pay attention.
Having a product catalog on your website will drastically improve your website's SEO by providing unique, keyword-rich content for each product in your catalog.
Think about it this way. If you sell hardwood and have 500 individual SKUs in your hardwood product catalog, you're giving Google's algorithm 500 unique opportunities to crawl your content, index your content, and use it for future hardwood-related Google searches.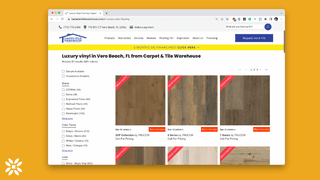 Compare that to having a single static hardwood page on your website, and you can see why product catalogs drive an incredible amount of SEO value.
If you're a Broadlume website customer, this will look pretty familiar to you.
Tip #4 - Focus on Quality Website Content
Creating high-quality content that is relevant to your target audience is essential for SEO success.
This can include blog posts, articles, and other informative content that showcases your expertise in the flooring industry. Make sure to include relevant keywords and meta descriptions to optimize your content for search engines.
Pages on your website that explain each category of flooring product you carry are good examples of quality website content. But don't let that limit you! If you're having trouble coming up with ideas for content, just think about the most frequently asked questions you get from your customers each week and start there.
Final Thoughts
By implementing these simple SEO tips, you can improve your website's visibility on search engines and attract more potential customers to your business.
Remember, SEO is an ongoing process, so make sure to monitor your website's performance and adjust your strategy as needed.
If you're curious about how Broadlume can help you improve your SEO, we'd love to talk! Shoot me an email → dan.pratt@broadlume.com
Stay up to date
Broadlume
in your inbox