3 Mistakes Flooring Retailers Make While Attending Flooring Trade Shows
Avoid these 3 major mistakes and follow these best practices to maximize your time at trade shows this season.
By Dan Pratt
Jan 13, 2023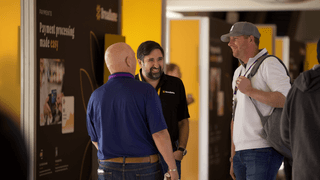 I'm going to say something you're not going to like.
You ready?
Ok, here it goes:
Every year we see flooring retailers attend flooring trade shows and make the same avoidable mistakes over and over again.
Last week, we shared our 6 expert tips to get the most out of flooring trade shows this season and we were overwhelmed by the response from the industry.
Flooring retailers from across the country reached out with some of their own tips and tricks they've picked up throughout the years, and a few of them asked what common mistakes we've seen retailers make while at flooring trade shows.
It's a great question. And after spending hundreds of hours at flooring trade shows since acquiring FloorForce and starting Broadlume, it's one we feel pretty confident answering.
So here are 3 big mistakes flooring retailers make while at flooring trade shows.
Let's dive in!
Mistake #1 - Ignoring Networking Opportunities
The single biggest advantage of attending an in-person flooring trade show is the wealth of networking opportunities it creates for retailers.
Let's take a second to think about that. Shows like Southeast Flooring Markets or The International Surface Event attract thousands of flooring retailers from across the country. The vast majority of these retailers are not your direct competition and have likely encountered many of the problems you're facing today.
Add a sprinkle of common interest and a dash of liquid courage from the open bar, and you're looking at one the best opportunities to network and learn from like-minded industry professionals.
Unfortunately, many retailers attend trade shows with the primary goal of finding new products to place in their showrooms, and in doing so, neglect the opportunity to network. It's one of the biggest mistakes I see at every show.
Here are a few best practices to help you avoid this mistake and make the most out of your networking opportunities:
Do Your Research Ahead of Time: Before the show, research the exhibitors and attendees who will be there. Identify the key people and companies you want to connect with and make a plan on how you want to engage with them.
Use Social Media: Social media can be a great way to connect with other attendees and start building relationships before arriving at the show. Our two favorite places to network online with like-minded flooring retailers are the Flooring Dealers & More group and Beat the Box Stores Facebook groups.
Bring Lots of Business Cards: This may sound weird from someone that started a technology company, but good ol' fashioned business cards are a must-have for networking at trade shows. Make sure to bring enough to last the whole event, and have them readily available to hand out to anyone you meet. There's nothing worse than having a great conversation with someone and awkwardly trying to find them on LinkedIn because you ran out of business cards.
Networking at trade shows can be a bit intimidating, but with a little planning and preparation, you can make valuable connections that will significantly benefit your business.
Mistake #2 - Spending Too Much Time With Existing Vendors & Partners
While it's great to have a good relationship with your existing vendors and partners, trade shows also provide an opportunity to explore new products and services.
The industry is changing quickly and just because a manufacturer or supplier was the best solution for your business 10 years ago does not mean they're the best solution for your business today. Opening yourself up to different points of view will help you zig while everyone else in your market is zagging, putting you one step ahead of the competition.
Here are 2 of my favorite tips to help you avoid this mistake and seek out new partnership opportunities while attending trade shows this year:
Set Aside Some Time to Explore: In my post last week, I mentioned the importance of making a plan before heading to a trade show this year. But overplanning can be just as bad as underplanning. Make sure you carve out some free time to explore the trade show floor. You may be surprised by the new products or services that catch your eye.
Keep an Open Mind: Just because a product or service is new, doesn't mean it's not worth considering. Keep an open mind when exploring new products and services, and don't dismiss something just because it's not something you're used to seeing. 
Remember, balancing your time between your existing vendors and trying out new things is a great way to keep your options open and potentially find something that can bring added value to your business.
Mistake #3 - Showing Up to Trade Shows Alone
Simply put, attending flooring trade shows alone can be overwhelming and will limit the amount of information and ideas you can gather during the event.
Bringing key members of your team is an easy way to avoid this mistake. Sure, there will be a small added cost from the extra headcount, but their attendance will ensure you have a diverse set of perspectives to help make informed decisions about the products and services you encounter at the trade show.
Here are a few best practices to get the most out of your team while attending trade shows this year:
Designate Specific Roles: Assign specific roles to each team member to ensure that everyone knows their responsibilities and what they should focus on during the show. This can help avoid confusion and ensure that everyone is making the most of their time.
Establish Clear Goals and Objectives: Prior to the trade show, establish clear goals and objectives for your team and communicate them effectively. This will keep everyone aligned and aware of what to focus on during the event.
Hold a Post-Show Debrief: After the show, hold a team meeting to discuss the insights gained, the manufacturers/suppliers/technology companies that stood out, and the follow-up items that require attention. This will provide an opportunity for everyone's thoughts and observations to be shared and for the team to act on them promptly.
Inviting your team to events this show season will increase your chances of making important connections and finding new products and services that are a good fit for your business.
Conclusion
By avoiding these mistakes and following the best practices outlined in this post, you'll be able to make the most out of your attendance at trade shows this season and come away with valuable insights and connections to help you grow your business.
As always, we'd love to hear from you! What easily avoidable mistakes did we miss? Shoot me an email and let me know → dan.pratt@broadlume.com
Also, the Broadlume team will be attending Surfaces (TISE) next week in Las Vegas, NV! Make sure to visit us at booth #1546 to say hi and pick up some limited edition show season swag.
Stay up to date
Broadlume
in your inbox
Ready to Increase Your Profitability?
See why over 3,000 retailers trust us with their businesses.