4 Reasons Flooring Retailers Should Embrace Inbound Marketing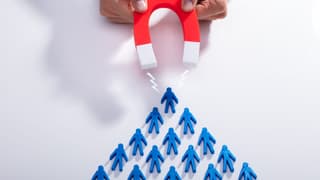 It's no secret: online search has become the number one way for consumers to find the products they need. According to Forbes, a whopping 65% of customers research a product online before stepping foot inside a store. And that number continues to grow every day.
So there's no question that your business needs to engage potential customers online. However, we've spoken with many flooring retailers who simply put up a website and wait patiently for customers to start pouring in. Unfortunately, it just doesn't work!
Unless you're putting time, effort, and budget into your online efforts, you are simply not setting your business up for success. If you want to successfully drive traffic and engagement to your website and your store, it's crucial to develop an inbound marketing strategy.
The good news: using just a little bit of know-how, you can develop a successful inbound marketing strategy with minimal time and effort.
Below, we'll explain exactly what inbound marketing is, why inbound marketing is so important, and demonstrate how to create a successful inbound marketing strategy for your flooring business.
What is inbound marketing?
Inbound marketing refers to bringing customers into your sales funnel through engaging content, rather than just pushing your brand out through advertising.
Although you may not know it, you've probably seen thousands of inbound marketing strategies in action. You may have even created some yourself.
Example: have you ever read a blog post designed to help you solve a problem? Was that blog post written by a company? Did that company ask for your email or bring you into their sales funnel? Then you've experienced inbound marketing.
Other inbound marketing tactics include:
Social media posts
Webinars
Infographics
Video creation
Email marketing
Influencer marketing
Essentially, if you've ever created engaging content designed to attract qualified customers, you've done inbound marketing.
Why inbound marketing is so important for flooring retailers
"Location, location, location" isn't just for real estate. It's also true for online marketing. Your prospective customers need to see your presence everywhere. If consumers can't find you online, they aren't going to see you as a legitimate business.
Translation: in order to compete with the Home Depots and Lumber Liquidators of the world, you have to put yourself out there in order to generate more leads. Inbound marketing can help with that and help you form a better relationship with prospective customers. Here's why.
Inbound marketing is cost-effective
Inbound marketing is inherently less expensive than traditional outbound marketing methods like radio or TV ads. Heck, it's even cheaper than digital marketing methods like PPC.
Don't believe us? According to a study by Hubspot, inbound marketing costs a full 60% less than traditional outbound marketing.
Getting the same amount of business for 40% of the cost? Yes please.
Inbound campaigns are unintrusive and build trust in your brand
Outbound marketing is, by its nature, intrusive. Whether it's a billboard, cold call, or TV advertisement, you're trying to talk to customers when they aren't ready to engage with you.
People find outbound marketing so irritating that they pushed the government to do something about it—it's why the National Do Not Call Registry exists! It's also a big reason why so many people are switching to TV streaming services over cable: there are no commercials.
Inbound marketing, on the other hand, provides value to prospective customers before they even enter your sales funnel. This builds trust and enthusiasm in your brand and creates a positive relationship with your customers.
It attracts quality leads
Inbound marketing offers prospective customers content that's valuable and relevant to their needs. As a result, they seek you out—not vice-versa.
This relevance means these leads are already more likely to buy from you in the first place. Avoid the guesswork that comes with qualifying leads; inbound marketing can do it for you.
Inbound marketing never stops generating business
Inbound marketing is always working for you. Your website doesn't go home for the weekend or take vacations. Your YouTube channel doesn't close down for the night. Inbound marketing content is always there for potential customers to enjoy, 24/7.
And it doesn't have to be limited by geography
Another great thing about inbound marketing: it doesn't have to be location-specific. Even if you're running an outbound marketing campaign within a certain geographic radius, a well-run Instagram account can reach people well outside that area. And a collection of interesting blog posts or a great YouTube flooring channel can generate fans all over the country!
Inbound marketing can help competition-proof your business
Flooring retailers fear competition, and with good reason. One savvy competitor can steal away thousands of dollars of revenue. And when you're up against box stores with billion-dollar advertising budgets, it can feel like you can't compete.
But think about it: your competitors can copy your process and product, but they can't copy your identity. And those shiny box stores? They don't have your heritage story. And they never will.
Inbound marketing uses your unique voice to connect with customers. Competitors can't swoop in and take that away from you. Even if you're competing with larger businesses or corporate behemoths, inbound marketing evens the playing field by demonstrating your personality and authority to potential leads.
How to create an inbound marketing strategy
There are many ways you can go about setting up an inbound marketing strategy. As we mentioned above, social media posts, blog posts, and even video content can be extremely powerful.
Email campaigns, infographics, and influencer marketing are also great ways to generate inbound leads.
Or, if you simply don't have the time to create an inbound marketing campaign, you can always have a company that specializes in digital marketing for the flooring industry do it for you!
Stay up to date
Broadlume
in your inbox
Proven to make a difference
We've helped thousands of retailers simplify their business and sell more floors. Schedule a demo, and see why Broadlume is the most trusted technology provider in the flooring industry.