6 Questions to Help Optimize Your Flooring Website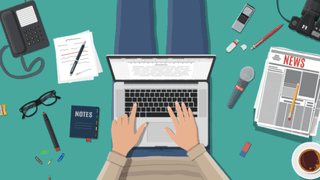 It's no secret: for flooring retailers, having an excellent website is no longer optional.
With nearly 90% of consumers now starting their buying journeys online, you need to make sure that your website isn't just good—it's great.
So what do customers expect from an excellent website? To begin with, they need to be able to find it easily. They need to be able to browse your products and prices with ease. They need to be able to learn who you are, see examples of your work, and even read what other consumers are saying about your company.
And that's just the beginning.
Luckily, you don't need to know anything about websites or technology to figure out whether your website is up to par. You just need to look at your site through the eyes of a consumer.
Below, we'll provide 6 questions to help you optimize your flooring website. Ask yourself each one—and afterward, if you decide that you do need a better flooring website, we'll help you out with that too.
TABLE OF CONTENTS
1. Are your products and services clear and accessible?
Our research has shown that the vast majority of consumers who visit a retail flooring website navigate to its product catalog or services pages within just 5 seconds of arriving.
More importantly, 68.3% of the users who do this will end up visiting 5 different pages or more—which is an excellent engagement rate.
If your products and services are clear and accessible, users will be more inclined to actively engage with your site. They'll also engage with your site for a longer time, which significantly increases your chance of converting those users into leads.
2. Is your product catalog complete, up-to-date, and easy to navigate?
Interestingly, most users who navigate to a retailer's product catalog don't stay there for long—roughly 2 minutes on average.
That's only long enough for users to find the products and services they're already interested in, along with sales and pricing information for comparison purposes.
Translation: you need to have a complete, up-to-date, and easily navigable product catalog. Users often visit numerous sites when researching flooring products. If they're unable to find what they want on your site, they'll simply move to the next.
Make sure your prices are clearly listed, along with any sales, promotions, or related updates.
3. Is your business easily accessible?
Our research has shown that after product and service catalogs, the second-most visited section on any flooring dealer website is the contact page.
This tells us that once a consumer feels confident you have what they are looking for, they're very likely to continue engaging with your company.
So be accessible! Make sure there are plenty of touch points for users to engage with you and your brand, both online and offline.
How? Keep your contact information front and center, provide users numerous ways to get in touch, and include as many calls-to-action as possible without being obtrusive.
4. Is your website mobile-friendly?
With more and more Americans owning smartphones (well over 80% as of two years ago), mobile optimization has never been more important.
These days, well over 50% of consumers begin their buying journeys online. That means your website simply has to be optimized for mobile use.
Visit your website using your smartphone. How does it look on mobile? Is it easy to navigate? Do your images automatically scale to the correct size? Are the links and buttons easily clickable? Does the text wrap to fit on the screen? Does your product catalog provide a good mobile experience?
If your answer to any of these questions is negative, you may need a new website.
5. Do you set yourself apart?
The most attractive part of working with any local retailer is that they're local.
As a local craftsperson, you offer a truly personalized touch. You customize unique solutions to each of your customer's specific wants and needs. Your business has a story—so leverage it!
That's one thing the box stores will never be able to replicate (no matter how much their advertisements try to convince you otherwise).
Lean into it! Be yourself. Let your personality and story shine through across your website. If you do, you'll have no trouble outpacing your competition. Whatever you do, set yourself apart!
6. Do you offer user reviews?
According to Qualtrics, 97% of consumers read reviews for local businesses before patronizing them. And 91% of consumers between the ages of 18 to 34 trust online reviews as much as personal recommendations.
Simply put, you need to have reviews on your site. You do not want consumers leaving your website just to find reviews of your business. They may never return! Instead, put those reviews directly on your site.
Advice for building a better flooring website
There are many factors that go into winning new customers and selling more flooring products. But these days, by far the most important is having a great website. If you want to optimize your flooring website, keep the questions we asked above in mind. And if you don't have the time or resources to meet those standards, we can help.
Stay up to date
Broadlume
in your inbox
Proven to make a difference
We've helped thousands of retailers simplify their business and sell more floors. Schedule a demo, and see why Broadlume is the most trusted technology provider in the flooring industry.