FloorCon 2023: 5 Reasons Why Flooring Retailers Shouldn't Miss This Event!
Mark your calendar for the most anticipated event of the year. And if you're seeking that extra spark of motivation to join us, read on.
By Jeffrey Bieber
Aug 4, 2023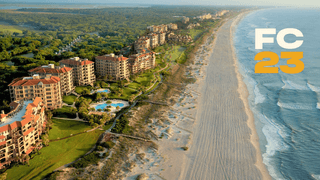 Introduction
Hey there, Flooring Retailers!
We are less than 4 months away from FloorCon 2023 and here are the 5 reasons why you should join us at the Omni Beach Front Resort in Amelia Island, FL:
1. It's Tebow Time!
That's right! 2x National Champion, Heisman Trophy winner, 1st-round NFL draft pick, and 5x New York Times best-selling author will be taking center stage at FloorCon. From inspiration to motivation, you'll leave his keynote fired up and ready to grow. Bonus: Every attendee will receive a signed version of his new book, Mission Possible, and a chance for an exclusive Meet & Greet!
2. Learn, Train, Network, Repeat
When it comes to quality time with manufacturers and distributors, retailers, and technology partners, there's no show like FloorCon.
While we love attending and participating in the big and regional flooring trade shows, those tend to be buying shows vs. partnership shows.
That's what makes FloorCon unique: in-depth training, collaboration, networking, and inspiration, including:
From classroom-style training sessions with manufacturers and strategic partners

A highly-curated 2-day trade show (that's already 94% sold-out!)

Business-growing educational tracks

Interactive networking activities

And a whole lot more
You'll forge meaningful connections with your fellow retailers, the biggest manufacturers, and distributors, and meet new and exciting partners who'll help you grow your business.
3. Speaking About Manufacturers…
Not only are you going to receive unfettered access to some of the biggest and best brands in the flooring industry, but we also have a few massive, unannounced surprises up our sleeves.
While we can't share the information right now, at FloorCon, these partners are going to introduce new programs to help you sell more flooring unlike ever before.
Hint: We'd call this a renaissance and return to greatness for two of the announcement 😀.
4. FloorCon University!
Ready to go back to school? Grab your backpack, laptop, and sharpen your pencils for FloorCon University (FCU).
As a flooring retailer, it is so rare to have focused time to work on your business vs. working in your business. That's why we are introducing FCU. Unlike years past, each attendee will receive the opportunity to attend every breakout session to improve:
Their business skills

Understanding of the market and economy

Installation knowledge

Simple ways to increase their profits and margins
5. I've Got 2 Tickets To Paradise
Dedicate time to improve your business? ✅

Network with your best partners and forge new relationships with retailers? ✅✅

Arm yourself with business-boosting knowledge? ✅✅✅

Spend 4 days at a 4-star beachfront resort? You get the idea.
FloorCon is the only conference that focuses exclusively on helping you grow your business through networking, education, learning, and collaboration.
Tickets are moving quickly and prices go up on Aug 28th, so reserve your spot here.
Mark your calendars, pack those bags, grab some sunscreen, and get ready to take your business to the next level.
FloorCon will take place on Nov 28 - Dec 1st in Amelia Island, FL at the Omni Beach Resort. We can't wait to see you there!
Stay up to date
Broadlume
in your inbox