Social Media Cheat Sheet Guide: How To Grow Your Business Organically
Get ready to elevate your social media game. In this blog, we recap our social media webinar that helps you master organic social media to grow your flooring business online.
By Alexandra Wittner
Jun 28, 2023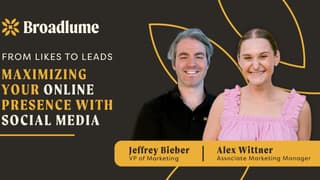 Introduction
Hey there! A couple of weeks ago, Jeff Bieber and I took a deep dive into the world of organic social media for flooring retailers. We wanted to recap the essential aspects to consider when it comes to leveraging these powerful platforms. But instead of just giving you a boring list of information, we're here to give you a more human and approachable recap of what we discussed. So let's get started!
Choosing the right platforms
First things first, start out by choosing the right social media platforms for your flooring business. Where should you begin?! We recommend starting with Facebook, LinkedIn, and Instagram to be your main focuses. Facebook adds over 500,000 new user accounts every day, which equals 6 new profiles every second. After all, you want to be on platforms where your potential shoppers are hanging out!
Tools to kickstart your growth
Start with creating an authentic brand voice that is true to your flooring business and utilize impactful technology tools for easy content creation!
Here are the tools that I can't live without:
Timing matters
Next up, we chatted about why social media is so darn important in today's digital landscape. Social media can help boost your brand visibility, engage with shoppers, and ultimately grow your business. Timing matters too, my friend! Learn when and what time to post! After all, not all social media platforms were created equal when it comes to the best time of day to publish your content.
Facebook: Monday around 1 PM ET
LinkedIn: Friday around 12 PM ET
Instagram: Monday around 12 PM ET
*Twitter: Friday around 12 PM ET
*TikTok: Sunday around 4 PM ET
*These are not recommended platforms to focus on, but I wanted to share them in case you needed some bonus platforms!
By understanding the peak activity periods, you can make sure your content gets maximum visibility and engagement. Test it out for yourself though! There is no one-size-fits-all when it comes to finding your groove with social media.
Be a storyteller
Last but not least, create compelling content. Be a visual storyteller. Don't do the basics, make your flooring business stand out against the competition. At the end of the day, the goal is to produce high-quality, relevant content that adds value to your audience and helps build your flooring brand's reputation.
Conclusion
To wrap it all up, we want to remind you that social media doesn't have to be a daunting task. With these actionable items, you are going to be able to elevate your presence with ease. So go ahead, drive meaningful engagement, and unlock the potential for long-term success!
If you missed the full webinar, don't worry! You can check it out right here.
Happy social media-ing!
Stay up to date
Broadlume
in your inbox