Hallmark Floors Partnership Announcement (Press Release)
Broadlume and Hallmark Floors partner to provide retailers with a new consumer experience to increase sales.
By Jeffrey Bieber
Jan 27, 2023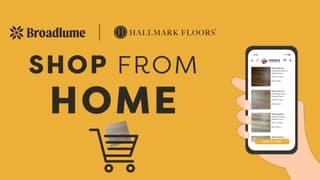 Sarasota, FL - Broadlume, the leading technology provider to the flooring industry, and Hallmark Floors, a premier flooring manufacturer, have announced a partnership to help retailers modernize their digital footprint and increase product sales. The partnership will provide retailers with a comprehensive and innovative digital solution to improve their online presence and drive sales.
Broadlume and Hallmark Floors have developed a high-impact digital program that simplifies shoppers' online journey with an e-commerce sample program, the ability to text with shoppers who are on retailer's websites, and an in-store visualization experience that is proven to reduce the sales cycle, increase customer satisfaction, and referrals. This partnership will help retailers increase online visibility, attract more customers, and drive more sales.
"The success of the independent retailers is our one and only focus. We've developed this program to connect manufacturers like Hallmark and their aligned retailers with shoppers to simplify the way flooring is bought and sold. We are thrilled to partner with Hallmark Floors to offer retailers an unmatched set of digital tools that will help them thrive in today's digital landscape," said John Weller, CIO of Broadlume.
"We've already seen the massive impact our integrated platform delivers for retailers, with thousands of shoppers visualizing their products, then ordering samples, and ending up in their retailers' showrooms. Partnerships like this are proof that through technology, the brands and retailers who built this industry, will be able to compete and win against the box stores well into the digital future."
Hallmark Floors, known for its handcrafted, small-batch flooring, will provide retailers with visualizable products from its vast catalog, high-performance websites, and the ability to work with digital experts to modernize their online presence.
"We are excited to partner with Broadlume to provide retailers with the tools they need to drive sales and stand out in their markets," said Mark Casper, VP of Sales and Marketing at Hallmark Floors. "Our goal is to help retailers succeed in the digital age and offer their customers a seamless online shopping experience. The decision for us was easy. There is no other company in the industry with a proven track record like Broadlume, the singular focus to help retailers, and an all-in-one platform to grow their businesses."
The partnership will be available to retailers in the United States and Canada, and interested retailers can contact Broadlume or Hallmark Floors for more information.
About Broadlume
Broadlume is the world's largest provider of digital technology to the flooring industry. They provide retailers with an all-in-one marketing and management platform for local retailers who want to grow their revenue, streamline their operations, and maximize their profits.
About Hallmark Floors
Hallmark Floors is a premier flooring manufacturer that offers a wide range of high-quality flooring products. Handcrafted in small batches by professional hardwood craftsmen, Their wood floor collections are developed and designed to enhance the beauty of all types of homes and interiors, from cozy and traditional to cool and contemporary living.
The company has become one of the fastest-growing wood flooring companies on the market and is pleased and proud to offer over 100 uniquely designed hardwood and waterproof floors.
Stay up to date
Broadlume
in your inbox