How To Use Barcodes For Massive Inventory Improvements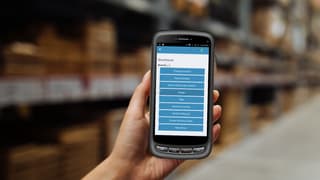 A disorganized warehouse can create huge problems and costly errors for flooring businesses. Although it may feel like the warehouse is just one component of your business, it feeds into other critical functions. Not knowing exactly how much product you have can lead to problems for your sales staff and installation down the line. Getting your inventory in line can be a lot of work, but it's made miles easier by utilizing barcode technology!
Warehouse Out Of Whack?
"Organized chaos" does not make for an "organized" warehouse. It's critical for growing businesses to have a warehouse that is clearly organized and easy for newcomers to understand. To get it done you'll need teamwork and the right tools!
Teamwork: you'll need to create what we call a "culture of inventory". This means that your entire staff knows how critically important an accurate inventory is for your business. This requires running a full physical inventory on a regular basis, and making sure that every level of staff is included. Ensuring that your whole team understands the importance of accurate inventory will help make sure it's done properly.
Tools: We know that running a physical inventory takes time away from other business functions, but it's still extremely important! Making sure you have the right tools for the job makes it go much more quickly. On average, Broadlume Flooring Software clients who utilize our barcode flooring inventory management integration are able to complete physical inventories in about half the time!
Why Use Barcodes For Inventory?
Barcoding makes inventory move so much faster than ever before. Why? Because it can work on multiple steps all at the same time. Typically, when you run a physical inventory using pen and paper or a spreadsheet, you'll need to do a lot of running back and forth between the warehouse and your office. Plus when you have all your data, you'll need to enter it into your system and make adjustments. This opens up the possibility of data entry errors.
With our barcode inventory management system, you simply need to scan your products with an easy to use smartphone and move on! The software is able to update in real time. Plus, all of that data is fully integrated into the system meaning there is no need for adjustments or data entry services. This creates significant efficiency improvements for the warehouse, sales floor, and the office.
Your Whole Staff Benefits From Barcoding
We know just how beneficial switching to a barcode inventory system can be for flooring businesses. We see it from our clients when they update! The top benefits flooring companies report are saved time doing inventory, saved time training new warehouse staff, and saved time on the sales floor.
"Along with the same barcoding system it has also been a great asset to have the ability to use any Android or Apple device to scan different barcodes and immediately pull up pricing that we can give to our customers right on the spot. It's better than having to go back to a computer and look it up in a spreadsheet or another system". – Chris Steffen, estimator at Lindon
Stay up to date
Broadlume
in your inbox
Proven to make a difference
We've helped thousands of retailers simplify their business and sell more floors. Schedule a demo, and see why Broadlume is the most trusted technology provider in the flooring industry.