New Features | Business Management Software (5/12/23)
You asked and we delivered. Check out our newest features, including custom installer rates, payment processing, reporting, and more!
By Taylor Rash
May 12, 2023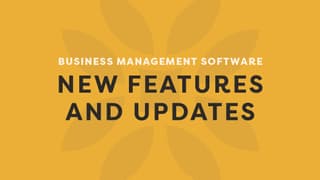 Key Features and Releases - Payment Processing:
Generate Click-To-Pay Links For Various Specified Amounts
You can now generate click-to-pay links for specific amounts, such as a deposit or final payment. Send your customers payment links for the exact amount they owe you. This makes it easy for customers to pay you online without having to give their payment card information over the phone.
*Requires Broadlume Payment Processing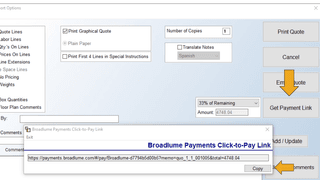 Add Click-To-Pay Link To Quotes, Orders, Invoices, And A/R
Get paid faster with the newly added click-to-pay link embedded in all of our documents. Want to hide them? Based on your feedback, we have included an option not to display the click-to-pay link.
*Requires Broadlume Payment Processing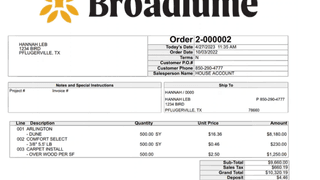 Cash And Carry Customer Setting To Not Store Cards
If you have a single customer ID that you use for one-off or cash & carry purchases, that ID can now be set so that payment cards do not store. To turn this on, go to Company Control 1 > Over The Counter - Cust ID:.
*Requires Broadlume Payment Processing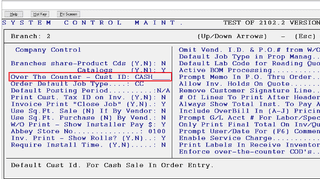 COMING SOON! Connect Web Payments To A Customer Record
Previously, any payments submitted by your customer online would be disconnected from the customer, invoice, or quote record in your Business Management Software. Coming soon, when adding payments to your credit memo, your Business Management Software will provide the best recommendations for matching transactions.
*Requires Broadlume Payment Processing
Key Features And Releases - Business Management Software
Installer Rate Import
You can now import a CSV file with custom installer rates for specific labor items. This makes it easy to keep track of your installers' rates and ensure that you're charging your customers the correct amount.
Modernized Work-In-Progress (Labor) Report
We upgraded this report from text-based and also now includes a new Install Date Filter.
Ability To Run All Reports From One Screen
You can now run all of your month-end reports from one screen. This makes it easy to find the information you need quickly and easily. To locate, go to General Ledger > G/L Reports > Print All Reports.
Add Scrollbar To Lead Scheduling
We've increased the size of the lead scheduling window so you can view more leads at a time. This makes it easier to manage your leads and ensures that you're not missing any opportunities.
New Fields Added To Excel Export For Work In Progress Costs From Job Cost
Added fields to Excel output. When a user is exporting to Excel from Work in Progress from Job Cost (JC), they now have an additional 3 fields of data included: Job Type, Special Instructions, and Ordered By.
Final Thoughts
We are always looking to improve our Business Management Software and we take your feedback seriously. Enjoy these new features and let us know what else you'd like to see! If you'd like even more information or support, please visit our Knowledge Base.
Stay up to date
Broadlume
in your inbox