Retail Lead Management: 101 Recap
Are you ready to close more sales? In this blog, we recap our Lead Management webinar and showcase all the ways it can help flooring retailers improve performance and efficiency.
By Taylor Rash
Mar 2, 2023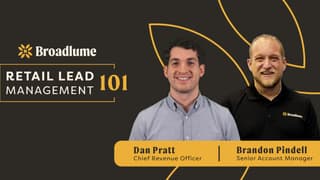 Introduction
Last week, we hosted a Lead Management webinar (the video is at the bottom of the post) to showcase one of the most powerful and effective tools a flooring retailer can use to run a high-performance store.
But if you don't have the time to watch the whole thing right now, here's a recap of the best lead management tool in the flooring industry.
Lead Management 101:

Lead management or Customer Relationship Management (CRM) is a tool that allows you to capture, organize, and manage your sales leads. 

To put that in a nutshell, a lead management platform allows you to track your leads, monitor activity, and efficiently close more sales. 
How can lead management help?
You will see very quickly that using a lead management platform identifies performance and opportunities in your sales process, like:
Increased efficiency
Improved lead tracking
Enhanced lead nurturing
Better customer experience
Increased competitive advantage
More sales
Let's be honest, even though we are all in the flooring business, we likely have different processes in place when it comes to the sales cycle. Between brick-and-mortar retail, shop-at-home, commercial, builder, and wholesale customers there are nuances that make each of us unique.
Whatever type of business your store focuses on, our lead management can be customized to your specific sales process to help you improve your operation
Why invest in Lead Management?
Once implemented, retailers have reported a:
50% increase in productivity
35% increase in sales close rate
Over 8x return on investment (ROI) 
While there are many lead management platforms in the market, like Salesforce and HubSpot, our Lead Management platform is the ONLY software developed and designed exclusively for flooring retailers.
We know this because it was built by $200M retailer, Jason Goldberg (CEO of America's Floor Source). Jason searched and tested for software that would fit his specific needs and couldn't find one…so he built one.
RLM was so successful in helping him grow his business to $200M that he decided to make it available to other retailers to help them achieve their fullest potential. Finally, in 2021, we acquired Retail Lead Management and integrated it into our all-in-one platform.
Conclusion
If you want to learn more about Retail Lead Management and how it can help your business get to the next level please reach out to your Account Manager or reach out to us for a free demo.
To watch the entire webinar, please click the link below 👇
Stay up to date
Broadlume
in your inbox