Broadlume's September Town Hall: The Recap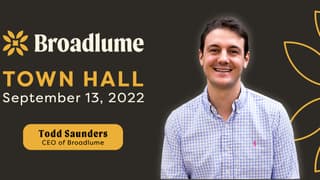 At our most recent Town Hall event, we made some true industry-altering announcements.
But before we get to that, you might be wondering: what is our industry Town Hall event? Simply put, it's a place where retailers gather to change the industry together. We come together to share major industry news, changes happening at Broadlume, and answer questions that we know are on the minds of retailers.
We'll be having more Town Hall events like this one further down the road, so be sure keep an eye out for those in the future. If you want to view our latest Town Hall in full, you can watch it here on the Broadlume YouTube channel.
On to the announcements.
Meet the New Broadlume
As of September 13, it's now official: the flooring industry's only true all-in-one marketing and management platform is now rolled up into one brand, under one name.
Introducing the new Broadlume.
Stay up to date
Broadlume
in your inbox
But this brand relaunch is about more than just a shiny new logo and color palette (although we think the new look is pretty slick). With one platform, it's now easier than ever for flooring retailers to transform the industry and deliver a true world-class customer experience.
This rebrand combines of all of our former brands (FloorForce, Creating Your Space, Freetail, Retail Lead Management, RollMaster, and Banaboom) into the Broadlume brand. In case you're already familiar with our family of legacy brands, here's how you'll find those services under our relaunched Broadlume brand:
Retailers can now log in to all of their Broadlume tools with one login screen, directly from the Broadlume website.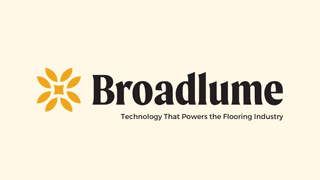 Things look a little different, but our mission is the same: to provide local flooring retailers with the technology they need to reach their fullest potential. We're thrilled to get back to work with you and grow the industry together.
Announcing Two Huge FloorCon Speakers
Not everything was focused on our new rebrand. We've got FloorCon coming up in November, and at our Town Hall we unveiled two massive keynote speakers.
Andrew Yang, Former Presidential and NYC Mayoral Candidate
That's right, Andrew Yang will be taking the stage at FloorCon in Tucson, Arizona this November. In case you don't know much about him, here's what you can expect.
Though he sprung into the national spotlight during his 2020 presidential campaign, and 2021 NYC mayoral campaign, there's a lot more than that to Andrew Yang.
Yang is the founder of Venture for America, a nonprofit that gives recent college graduates startup experiences to help them become leaders and make meaningful impacts. And in general he's one of the most alternative thinkers in America.
While he's no longer in politics (and describes himself as apolitical), he's passionate about working with businesses to help them learn how to think differently. We're ecstatic to welcome Andrew Yang to FloorCon, and can't wait for you all to hear him speak.
You can view all of our FloorCon speakers here.
Michel Vermette, President and CEO of Armstrong Flooring
Two newly announced speakers is better than one. Along with of Andrew Yang, we're thrilled to announce that Michel Vermette, President and CEO of Armstrong Flooring.
Vermette will join us for an exclusive talk on what every flooring retailer can learn from the journey of Armstrong Flooring. He'll give attendees a tell-all of how Armstrong Flooring fell from the peak of the flooring industry, why Armstrong had to sell their business, and what lessons retailers can take and apply to their businesses. If you're a flooring retailer, you won't want to miss Michel's presentation.
View the full FloorCon agenda here.
What's Next
That just about sums up our latest Town Hall event. So what's next?
With a newly refreshed brand, we're charging full steam ahead into FloorCon on November 14–17.
Even with our increased capacity, tickets are already over 80% sold out. If you want to secure tickets for this industry-changing event, don't wait!