Will You "Do The Work" in 2023?
Flooring retailers that commit to doing the work will be on the fast track to reaching their goals in 2023. Will you be one?
By Dan Pratt
Jan 27, 2023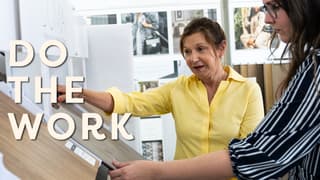 "Why did you decide to build a technology company in the flooring industry."
It's a question Todd Saunders and I have been asked hundreds of times since leaving our cushy jobs at Google to start the company that would turn into Broadlume.
We've talked about it in previous blog posts, but the simple answer is the people.
In the early days, before Broadlume was Broadlume, we spent a lot of time meeting with flooring retailers from across the country to learn about the industry. We noticed a clear theme in each one of our conversations. Every retailer we talked to was incredibly hardworking, passionate about their trade, and rolled up their sleeves every day to support their families and local communities.
We got hooked and didn't look back.
About a year after we decided to go all-in on building technology to help local flooring retailers, we went to dinner with Jason Goldberg, CEO of America's Floor Source and founder of Retailer Lead Management. Jason didn't waste any time. A couple of minutes after sitting down, he asked us the same question we've been asked time and time again.
"Why flooring?"
After going on and on about why we were excited about the flooring industry, he stopped us and said, "Oh, you guys like this industry because the people here are not afraid to do the work".
Jason summarized how we felt about the flooring industry in 3 words:
Do. The. Work.
A lot has happened since that dinner with Jason. We changed the name of our company to Broadlume. Acquired Retail Lead Management (along with FloorForce, Creating Your Space, and RollMaster). Grew our team to 200 incredible smart and motivated people. Created partnerships with over 300 manufacturers. And welcomed over 3,000 flooring retailers from across the country into the Broadlume family.
As we reflected on what we wanted our 2023 theme to be, we thought about that dinner with Jason and what got us so excited about building technology for flooring retailers in the first place.
Our theme for 2023 became pretty clear:
Don't talk about doing the work.
Don't complain about doing the work.

Don't say you're going to do the work.
JUST. DO. THE. WORK.
We know that running a small business is not easy, but we also know that the rewards are worth it.
The satisfaction of building something from scratch and watching it grow, the pride of giving back to your local community, and the sense of accomplishment when you see your hard work pay off.
So we're doubling down on our commitment to helping you do the work in 2023. We'll be launching new products and features, like Broadlume Payments, to help you focus on what you do best: growing your businesses. We believe that by providing tools that make it easier to run your business, we can make it easier for you to do the work you need to hit your goals this year.
Our #DoTheWork campaign will be officially kicking off at The International Surfaces Event next week in Las Vegas. Come find us at Booth #1546 to learn how Broadlume can help you #DoTheWork in 2023 and grab some limited edition t-shirts and stickers.
We can't wait to see you there!
Stay up to date
Broadlume
in your inbox