Announcing FloorCon 2022's Headline Speaker: Andrew Yang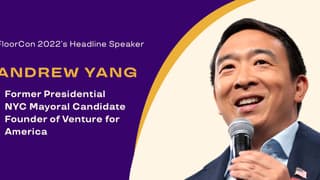 In case you missed our most recent Industry Town Hall event, we announced our two headline speakers for FloorCon 2022. To provide his insight on the flooring industry, we're bringing in Michel Vermette, CEO of Armstrong Flooring.
And as this year's industry outsider and technology expert, allow us to present…
Andrew Yang at FloorCon
That's right, that Andrew Yang. He'll be taking the stage at FloorCon 2022 this November—If you don't know much about him, here's what you can expect.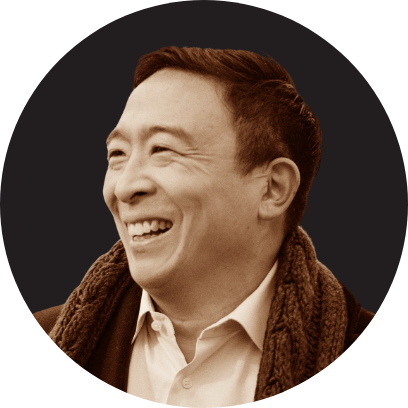 As a champion of innovation and one of the most alternative thinkers in America, Andrew Yang will show you exactly how businesses in America today can use the latest technology to get an advantage over competitors.
Though he sprung into the national spotlight during his 2020 presidential and 2021 NYC mayoral campaigns, there's a lot more than that to Andrew Yang. He's a free thinker, understands how to best leverage technology, and he's excited to bring his insights to FloorCon 2022. We want to be blunt: Yang is no longer in politics (and describes himself as apolitical), and he's passionate about working with businesses to help them learn how to think differently.
A Champion for Small Businesses
Yang is the founder of Venture for America, a nonprofit that gives recent college graduates startup experiences to help them become leaders and make meaningful impacts.
Venture for America was an early leader in fostering entrepreneurship across the country, rather than focusing on America's traditional tech hubs of Silicon Valley, New York, and Boston. Graduates from Venture for America have started businesses in a wide range of fields, including real estate, small business finance, expanding high-speed internet access, and consumer products.
All of this to say: Yang is far from a Silicon Valley tech mogul—he's passionate about helping everyday people all over the country build businesses of all kinds using technology.
But that's enough for now—you'll have to join us at FloorCon 2022 on November 14–17 to get the full lowdown from Andrew Yang himself. Reserve your tickets today before they're gone!
Stay up to date
Broadlume
in your inbox